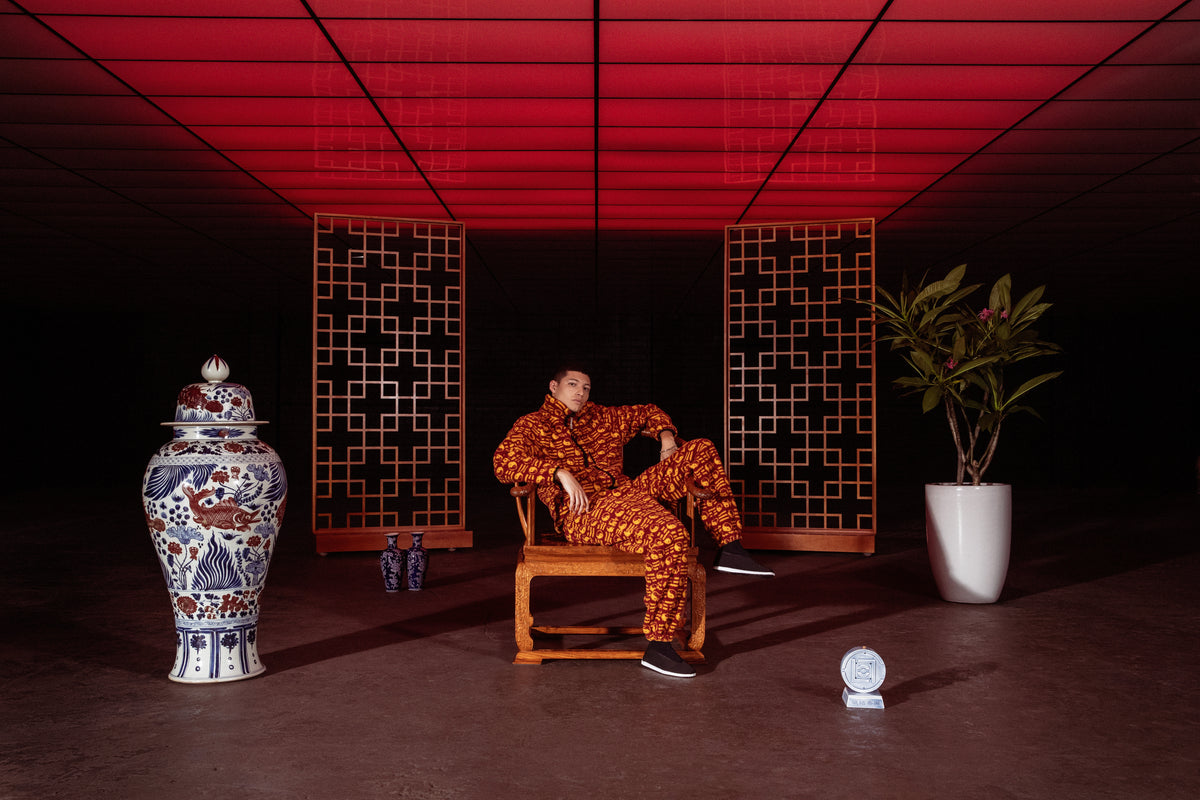 CLOT PRESENTS FALL/WINTER 2021 "NEW DYNASTY" COLLECTION REPRESENTING CHINESE EXCELLENCE
For Fall/Winter 2021, CLOT takes from its rich history of paying homage to Chinese heritage with the "NEW DYNASTY" collection. In 2010, the CLOT "Dynasty" collection was released to celebrate the triumphs and history of Chinese culture. This new offering takes the same inspiration and updates it for an audience ten years later. 
Broadcasting Chinese lifestyle and creative energy from home to the world stage, "NEW DYNASTY" was first presented in March in Shanghai through a thoughtful and engaging fashion presentation. Marking our 18th anniversary, CLOT has always represented Chinese creativity on a global stage with our bold Made in China ethos and odes to heritage in the details of its designs. For CLOT's Fall/Winter 2021 "NEW DYNASTY" collection, the redefining of the word "DYNASTY" is portrayed through the CLOT lens. Representing the emergence of new Chinese power and the impact of Chinese youth culture, CLOT is once again showing off what it truly means to be proudly Chinese-made.
Since the inception of CLOT, Founder Edison Chen has diligently pushed this mission throughout their entire journey. From concepts to deliverables, CLOT's Chinese heritage runs deep in our DNA. CLOT's mission is perfectly encapsulated in Edison Chen's 2017 speech at New York University - "We are all global and we are all the same people, even though our skin may be a different color it doesn't make a difference. Doing something for China should be doing something for the world. We should be proud to be Made In China and proud of what our people and culture can offer to the world."
Bold patterns and lush fabrics set the tone for 'NEW DYNASTY," with colors representing different Chinese dynasties and rich hues and unique details throughout the apparel. Highlight designs include the Panda Puffer Jacket and the Halftone Logo Hoodie. The Button-up Contrast Chinese Shirt represents CLOT's mission to bridge the East and the West, fusing Western denim-inspired fabrics on a traditional Chinese frog-button shirt.
The collection as a whole represents a new leaf for CLOT, one that features even more luxurious cut-and-sew items that are made for a maturing audience. With key pieces made to mix and match with streetwear basics, this is the vision of a "NEW DYNASTY" as conceived by co-founder and creative director Edison Chen.
CLOT Fall/Winter 2021 "NEW DYNASTY" will be available starting August 20, with new items releasing bi-weekly at JUICE locations worldwide and online.