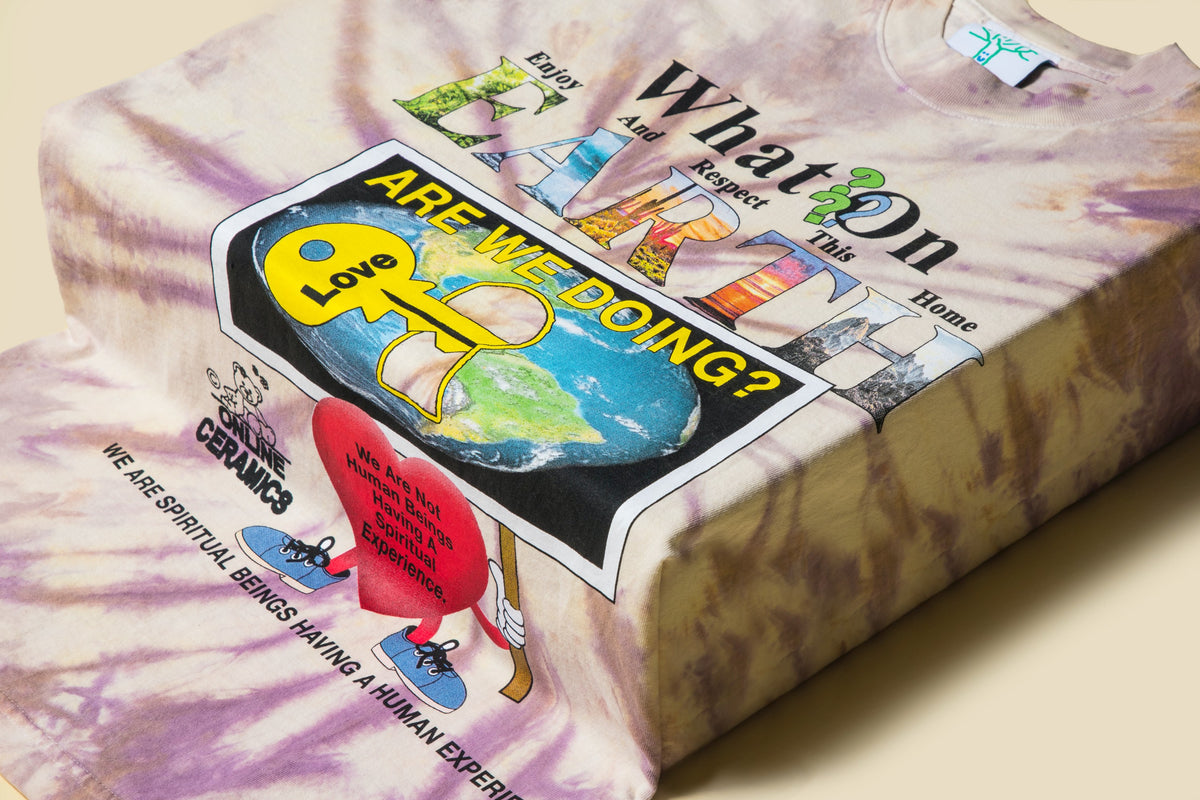 ONLINE CERAMICS URGES SELF-REFLECTION IN LATEST SS22 DROP
From environmental awareness to the importance of digital etiquette, Online Ceramics urges self-reflection in its latest SS22 drop.
With a consistency in delivering limited, high quality designs that resonate with lovers of psychedelic rock music—namely The Grateful Dead—Online Ceramics has maintained a strong following since 2016. The graphic imprints, as wild as they visually appear, often convey a certain meaning that stems from the founders' own experiences of self-development, be it spiritual energy and meditation, self-love and self-expression or love for the environment.

Featured: Online Ceramics What On Earth T-Shirt / Find Heaven T-Shirt
This season, the brand continues with its expressively bold aesthetics, aided by a signature dose of DIY tie-dye magic. Examples include the What On Earth T-shirt that begs the question of what we are doing to our environment, as its graphics and text urge us to love and respect this planet we call home. The Find Heaven T-shirt, meanwhile, offers encouragement to seek and connect to positive vibes that exist everywhere.

Featured: Online Ceramics Creature Card T-Shirt
Living in a digital world has as much ups as its downs. Seeing the amount of online hatred that has come to be known as 'Cancel Culture', the brand addresses the issue in its Creature Card T-shirt, featuring graphics that depict the Prehistoric Ages—a time where there was no war and no hate. 

Featured: Online Ceramics Let Me Show You T-Shirt / Don't Follow Me T-Shirt
Explore the rest of the SS22 drop from Online Ceramics at select JUICE store locations worldwide, including Hong Kong's JUICE K11 MUSEA, and on JUICESTORE.COM.