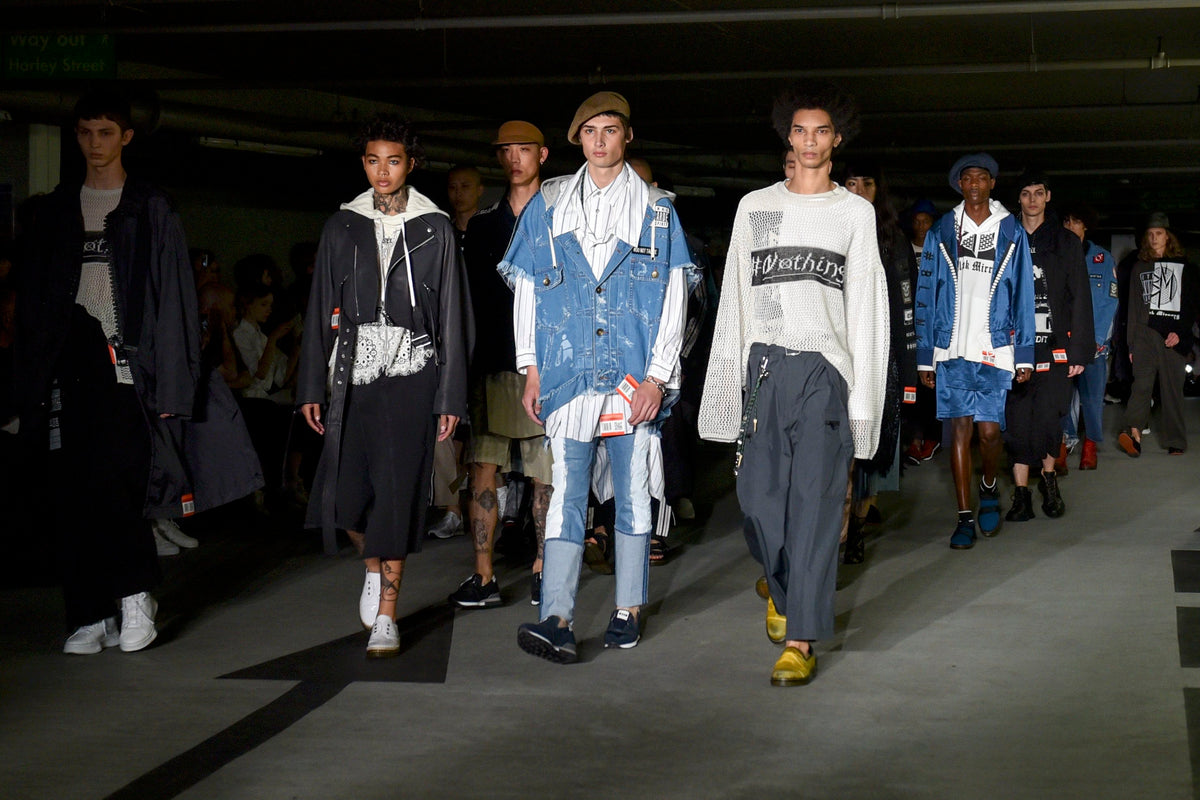 Storied Japanese Designer Mihara Yasuhiro Introduces MODIFIED
Mihara Yasuhiro might not be the first name that comes to mind when you think of Japanese designers, but he's an OG on that front in his own right. Hailing from the prestigious Tama Art University (which also boasts Issey Miyake as an alumnus), Yashuhiro began his career as a popular footwear designer, before finally entering the apparel world. Much like his fellow peers,Yasuhiro is fairly press-shy, but his endeavors and legacy speak for themselves. Now, the prolific designer is back with a new label called MODIFIED. 
Beginning his studies in Tama's textiles program in 1993, Yashuhiro developed an interest in footwear, leading him to launch his own label early on. Inspired by irregularity, his shoes were sold in independently-owned boutiques called SOSU MIHARA YASUHIRO - sosu, aptly meaning irregularity. His first "big break" came when he collaborated with PUMA on a footwear collection in 2000... which then led to an accompanying apparel collection and then his own, full-fledged eponymous label. 
But as his first major collaboration, PUMA gave Yasuhiro full creative reign. Originally intended for select PUMA accounts in Japan, the collaboration became so popular that within a year it was available at top-tier PUMA retailers worldwide. Lasting until 2014, the partnership saw some of PUMA's most iconic styles reimagined the craziest ways. From paint-dipped toe boxes to brogue-sneakers,  the sneakers were definitely not run-of-the-mill stuff. 
As he continued his PUMA partnership,Yasuhiro began to delve into apparel for his own label. Initially starting with pants, then shirts and then outerwear, his interest in apparel was a result of wondering what people would wear with his shoes. But it was also a necessary move, with Yasuhiro once saying, "I needed to fill the stores with something else." 
First debuting his MIHARAYASUHIRO collection at Tokyo Fashion Week in 1999, the brand grew so much that by 2004 Yasuhiro sought international outlets and began showing at Milan Fashion Week. A few years later, the line was included in Paris Fashion Week. Yasuhiro's creative process includes taking inspiration from an individual or piece of work, having drawn from Joseph Beuys and Thoreau's Walden. This method allows the designer to fluidly explore new concepts and influences, while still honing his own signature style - the trompe l'oeil. Known for expert layering and couture techniques, Yasuhiro's designs often juxtapose different design elements, blending gender norms by playing with silhouettes. 
In 2014, Yasuhiro landed another highly-coveted partnership - this time with Moncler Y. The designer presented a unisex collection that featured heavy texture and fabric blocking - something different from the shiny puffers Moncler was known for at the time. Fast forward a few years, and the designer has expanded his fashion empire, with his latest venture called MODIFIED.
A brand new collection, MODIFIED is Yasuhiro's couture, based on things "modified from existing shapes and transformed by existing shapes." Yasuhiro himself spent time collecting vintage goods from a variety of countries and then reassembling them with his team. With that, each piece is unique and one-of-a-kind. 
MODIFIED will be available exclusively at JUICE Sheungwan, in an all-new pop-up space, starting November 1.