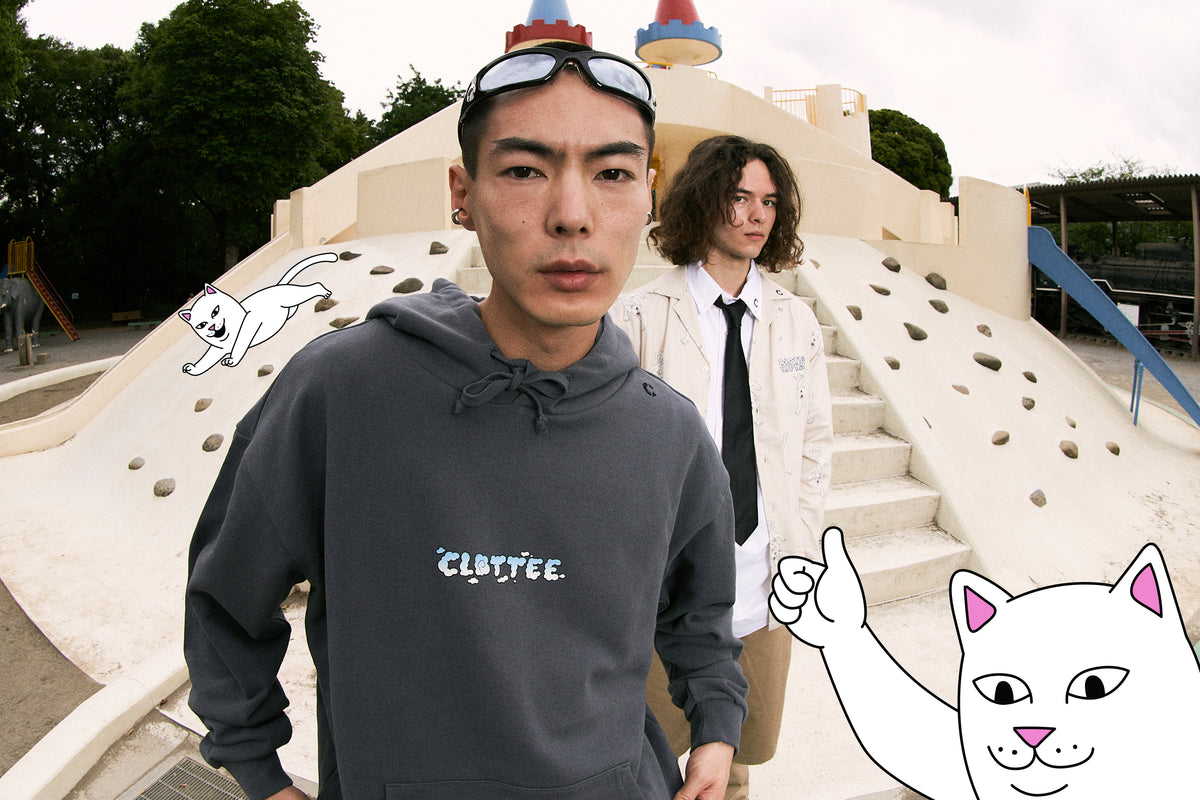 CLOTTEE and RIPNDIP playfully blend Ancient Mythology With Contemporary Streetwear In New Collaboration
RIPNDIP have been defying social norms with its controversial and playfully provocative designs since its conception in 2009. The brand's signature "Nermal" cat character has since become one of the most recognizable designs in streetwear. Aligning with our continued mission to bridge the east and west, CLOTTEE and RIPNDIP have collaborated on a capsule collection which combines RIPNDIP's unique design style with a distinctively Chinese influence.
For this collection, CLOTTEE and RIPNDIP have created an alternate version of Nermal, inspired by the mythical creatures portrayed in the ancient Chinese Classic of Mountains and Seas. The particular entity that inspired this new version of Nermal was a being called "Huan". It was said to resemble a wildcat with one eye and three tails that guarded a mountain of gold and jade. The collection itself includes your classic streetwear staples as well as two unique accessories in the form of a "Huan Nermal" mug and a patterned cat ear ski mask.
One stand-out piece in the capsule is this gray, knitted "Huan Nermal" sweater. This bold pullover features a full-knitted construction, covered in a detailed "Huan Nermal" graphic and the CLOTTEE x RIPNDIP collaborative logo embroidered into the upper left side. It is the perfect  statement piece that can bring life to any outfit.
Another must-cop from this capsule is this black windbreaker hoodie. Adorned with a more playful "Huan Nermal" and CLOTTEE cloud graphic, this pullover adds a playful pop of color and fun for when the weather gets rough. Additionally, the piece also sports CLOTTEE's logo embroidered into the left shoulder, a signature motif of the brand's designs.
For those warmer days, check out this tan graphic printed tee. Once again featuring the "Huan Nermal" character, this shirt implements blue and white Chinese cloud patterns and vivid red flames for a more eye-catching, colorful design.
The CLOTTEE x RIPNDIP capsule is perfect for those who enjoy RIPNDIP's unique cartoon style and take interest in CLOTTEE's mission to design with both eastern and western influences. The collection itself contains many playful pieces that can add a splash of fun to any streetwear wardrobe.
Prices for the CLOTTEE x RIPNDIP capsule collection range from HKD 200 to HKD 1,180 / USD 25 to USD 150 / RMB 200 to RMB 1,180 / NTD 980 to NTD 5,180.
The full collection will be available on August 25 at:
JUICE K11 MUSEA
JUICE SHANGHAI
JUICE GUANGZHOU
JUICE CHENGDU
JUICE TAIPEI
JUICE TAICHUNG
JUICE WECHAT MINI PROGRAM
JUICESTORE.COM
JUICESTORE.TW