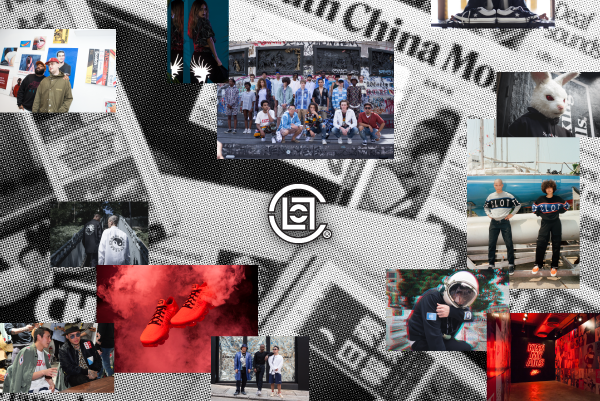 It's that time of the year again where we spend it with friends and family that matter most to us and take a breather before the new year. Between all the celebratory drinks, the never ending festive spreads and exchange of gifts, it's also a time for us to look back at our milestones in 2017 before starting fresh in 2018. Here at CLOT, we had a huge year full of collaborations, events, pop up stores and exciting new brands added to the family at our Juice stores worldwide. Here's a rundown of all the cool things that went down this year.
Alienegra Juice LA Pop Up
The year started off with a bang with CLOT's capsule collection of the iconic Alienegra print in the OG khaki and safety orange colour way at The Void 3125C in LA.

CLOT SS17 "New-Age Ethnic"
Following a presentation in Paris, the Spring Summer 2017 collection featured stories including a brick camo patchwork print, alien jiu-jitsu, a collaboration with artist Zoe Vance on custom hand painted t-shirts and more. "There are no more boundaries. New Age Ethnic is the world we live in today", says Edison Chen, CLOT's Creative Director.
ALL GONE 2016 Book Signing

Author and curator of the comprehensive street culture chronicle ALL GONE, Michael Dupouy embarked on an official book tour in Hong Kong, Shanghai, Chengdu. CLOT teamed up with Dupouy to create a capsule collection of apparel and tote bags for the release.
VLONE Hong Kong Pop Up
The streets were blocked with fans at The Box Sheung Wan as ASAP Bari attended the opening in celebration of the VLONE x Nike Air Force 1 release.
Pleasures and Chinatown Market Pop Up
Juice Tsim Sha Tsui welcomed the LA-based brand Pleasures for a visual exhibition at the store during Art Basel in Hong Kong. The store featured work from founders Alex James and Vlad Elkin from their  "My Life on the Internet" release. Chinatown Market founded by Mark Cherman was also a part of the pop up.
Nike Airmax Day
KISS MY AIRS was a celebration of Nike Air Max revolution over the past 30 years. Juice Causeway Bay was transformed for this very special Nike event in Hong Kong featuring the latest styles including the Nike Air VaporMax and Air max 1 Premium Retro.
Alienegra Blue Egra
The iconic CLOT Alienegra print was created in a must-have blue colour tone. The capsule collection differed from previous collections by its light shimmer blue strokes amongst the camo pattern.
CLOT x Converse New Age Ethnic "Texmex Pack"
The much anticipated "Texmex Pack" release came along with an exclusive CLOT x Converse Thunderboldt '84 and reversible windbreaker featuring textiles from the CLOT SS18 "New-Age Ethnic" collection. 
Guess x ASAP Rocky Ice Cream Cotton Candy Pop Up
A$AP ROCKY x GUE$$ Originals "Ice Cream and Cotton Candy Club" Summer 2017 Capsule Collection I.C.C.C.C. was introduced to Hong Kong with a launch party and pop up event at Juice Causeway Bay.
CLOT x Jam Home Made
In collaboration with accessories designer label Jam Home Made, the Faceless Watch, Leather Trays and Leather Trimmed Rosary were made in Japan and designed with CLOT.
CLOT x SUICOKE
The launch of the CLOT x SUICOKE brought together neon-orange elements commonly seen in high-vis uniforms of construction workers in the design of the KAW model. The very limited model was sold out instantly. 
CLOT SUMMER TEE Collection
The CLOT Summer Tee 2017 collection drew references to old school graphics and elements from the CLOT archive inspired by vintage film, popular culture and Hong Kong culture. The theme of the pop up at The Box Sheung Wan paid homage to the iconic Hong Kong Cafés originated in the 1950s - 1960s.
CLOTTEE SS17 UNSP Collection
The United Nations Space Program collection was built upon the concept by Edison Chen that "the Earth is no longer an ideal place to live in for humans...all nations and all races should get together to find a better place in the universe". The range was launched on TMALL and select Juice stores around the world.
CLOT x Nikelab Air VaporMax
CLOT and Nikelab collaborated on a one-of-a-kind Air VaporMax creating this year's hottest toxic red shoe. Staying true to CLOT's bold style, the crimson red shoe featured "dense clouds of smoke and toxic vapor" and "a substance diffused or suspended in the air" imprinted on the air cushioned soles.  The shoe was released with a special pop up installation in LA at The Void 3125C. It was also named as one of the 10 best sneaker collaborations in 2017 by Sneaker News.   
A-COLD-WALL* Concept Installation
Juice teamed up with A-COLD-WALL* to create their first ever Hong Kong Concept Installation at The Box Sheung Wan. A silver foiled look played a large part of the installation featuring exclusive items which made their debut at the pop up. Designer and creative Samuel Ross and Ace Harper also made an appearance at the grand opening.
CLOT FALL '17 "Inner Peace" Collection
The CLOT Fall 2017 "Inner Peace" range was inspired by traditional Chinese Tai Chi and the philosophies and practices surrounding the ancient martial art. CLOT goes back to its Chinese roots with details in prints, yin yang motifs, Chinese buttons and more.
CLOT x Converse "Inner Peace" One Star
The One Star '74 style was reworked and released in alignment to our CLOT Fall 2017 "Inner Peace" collection. The special edition of the Converse One Star hones in on our mission to creatively merge the East and West with elements from the ancient Chinese martial art - Tai Chi.
CLOT x Vanquish Denim
CLOT x Vanquish released two styles of Japanese raw featuring classic denim details were created with an extra wash for the perfect worn and torn feel. CLOT's design team worked closely with designer Ryo Ishikawa of Vanquish to create the exclusive styles in a relaxed fit and damaged skinny fit.
Dr. Woo x CLOT Meet and Greet with Edison Chen
The meet and greet was to celebrate the collaboration between Dr. Woo x CLOT collection which featured exclusive Hong Kong and Taiwan t-shirts on Champion bodies at JUICE Taipei and Causeway Bay.
CLOTTEE FW17 "Immigrant" Collection
The FW17 "Immigrant" collection was designed by Co-Founder of CLOT, Kevin Poon. He was inspired by the concept of breaking down the walls that separate people from different backgrounds, race and cultures: "there are no immigrants, just people wherever we are from, we are all humans".
CLOT and CLOTTEE at INNERSECT Shanghai
INNERSECT, the biggest 2017 Shanghai street culture convention consisted of exciting showcases from close to 100 artists, fashion labels, musicians and creatives around the world. CLOT was one of the leading brands exhibiting at INNERSECT. Edison Chen and the most in-demand tattoo artist Dr. Woo collaborated to create a heavy washed military China Jacket which was only available at the convention in limited quantities. Meanwhile, CLOTTEE by CLOT showcased their latest FW17 "Immigrant" collection. 
Juice x Footpatrol London SneakerExchange
Our very own Juice Hong Kong store and London's Footpatrol brought the latest adidas Consortium Sneaker Exchange instalment to life. Together we reworked two cult classic models; the Matchcourt Mid and the Handball Top. From Hong Kong's sprawling street-level market stalls to street traders of Soho, a shared appreciation for souvenirs served as the main theme for this special release.
CLOT Black Alienegra
Edison and the design crew brought back Alienegra in a must-have black colour tone. This capsule collection differed from the past by its light shimmer grey strokes amongst the camo pattern. For the first time ever, CLOT created regional exclusive items for Hong Kong, Shanghai, Beijing and Taiwan.
Skoloct Hong Kong Pop Up
The SKOLOCT x UNDERCOVER, SKOLOCT x HYSTERIC GLAMOUR collaborative collections and some limited SKOLOCT items featuring the character of SKOLOCT were on offer at The Box Sheung Wan pop up.
Fxxking Rabbits Pop Up
Joining forces with CLOT for a Hong Kong debut, the two brands have created a set of tees, hoodies and accessories playing with the classic prints from Fxxking Rabbits. The CLOT x Fxxking Rabbits collection played with the provocative "Smoking Kills" print that actually symbolises Ishikawa's moment in life when he quit smoking and started the brand.
CLOT Fall '17 "80 Degrees North" Collection
Inspired by Creative Director Edison Chen's trip to the arctic the CLOT Fall '17 "80 Degrees North" collection features glacial patterns, stone camouflage and polar bear motifs.
COMPLEXCON  
As a leading brand at Complexcon, CLOT showcased a selection of exclusive Alienegra tees and hoodies made for the international street culture convention in LA.
CLOT x Converse 80 Degrees North Fastbreak Mid
CLOT teamed up with Converse once again to remake the Fastbreak Mid, the classic basketball silhouette first introduced in 1983. The release of the shoe comes along with our '80 Degrees North' Fall 2017 collection where we pay homage to the hues and natural textures of the Arctic.
CLOT x Call of Duty Online
CLOT and Call of Duty Online, together with Alpha Industries, launched the CLOT x Call of Duty Online together with the M65 uniform in December. The unexpected collaboration between a leading streetwear brand in the fashion industry - CLOT, and one of the world's most captivating and powerful games - Call of Duty Online brought along the attention of gamers from around the world.
SOME WARE Hong Kong Pop Up
Founded by Brendan Fowler and Cali Thornhill DeWitt, SOME WARE is a fashion label that epitomizes the duo's history in music. The brand recently made its debut at its first ever pop up in Hong Kong at The Box Sheung Wan. 

CLOT x Daneson
This season, CLOT joined forces with DANESON, a Canadian brand who make the best toothpicks in the world, to create an exclusive CLOT x DANESON Ice-lemon tea flavour toothpick. All the ingredients are real, pure and natural. Ice-lemon tea is one of our favourite local drinks, which can be easily found in any Hong Kong Style café.
So there we go. A round up of the most significant collaborations and events for the CLOT, CLOTTEE as well as Juice stores. It's been a pretty massive year for us and we're so proud of all the exciting projects we've been able to share with the world. Thank you to all the people who made it to our pop ups and events, our loyal customers and everyone involved who helped make it all happen. We're excited for the new year and without a doubt there will be many more surprises to come.