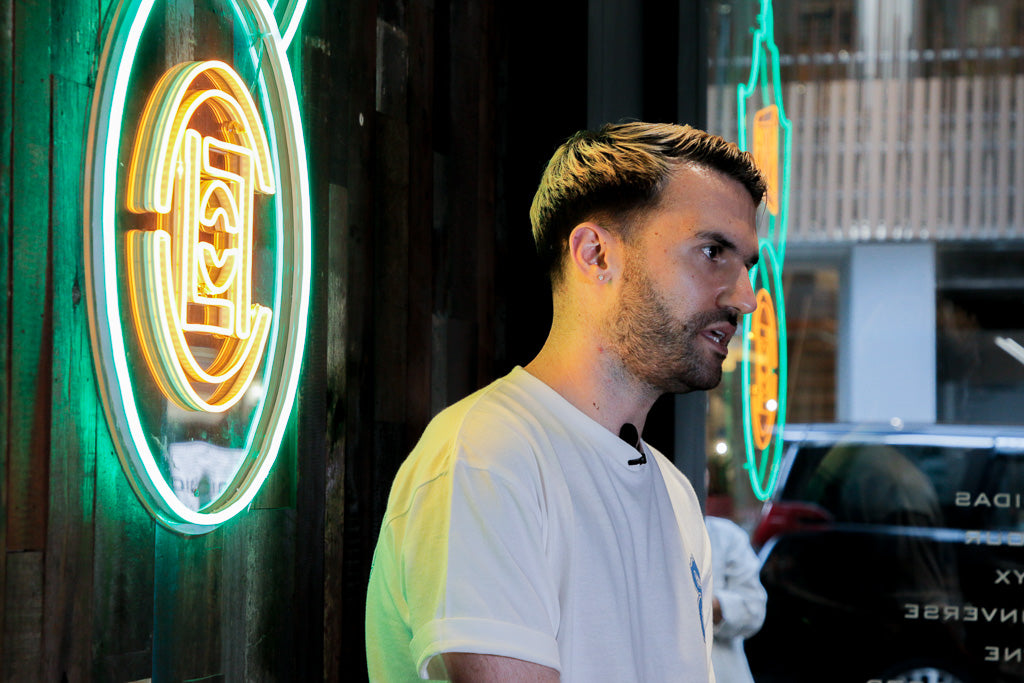 A-Trak Talks Longevity, Fool's Gold and Staying Relevant
During our Fool's Gold x CLOT event at our JUICE Causeway Bay store last week, we caught up with the prolific DJ and producer before his set to catch up. We talked about everything from being in the industry for 20+ years, bringing Fool's Gold to Asia and what's coming up next.
CLOT: You've been to Hong Kong before, what do you think of the city?
A-Trak: I have been to Hong Kong many times, and my favorite thing about the city is that there is always really great food here. I like anything that has to do with the dragon mythology of the city. Big shout out to the dragon!
How does [Hong Kong] differ from Canada, LA or the States?
Well, anything from Asia is very different from Canada or the States in every aspect, I don't even know where to start. I would say coming here as a DJ is interesting even compared to other places in Asia. I feel like in Hong Kong, there's a mix between a local audience and expats and Westerners. It's an interesting balance in the audience when I play here. The shows are always fun.
So what inspired the name "Fool's Gold?"
I tend to pick names that don't mean anything but sound like a name. So Fool's Gold is one of those. It's the kinda thing that my friends and I picked because it sounded cool, and then you can rationalize after. You can say it's because we don't take ourselves too seriously, and Fool's Gold is not even real gold. 
So Fool's Gold is a record label but there's also merch and apparel, how does fashion and music tie together for you?
Fool's Gold is definitely what you would call a lifestyle brand. It started off as a record label and definitely remains one at its core. But because artists are involved with so many aspects of culture, it ended up being a clothing line, an events company, a design agency and all these little things - it's really what we decide to make it. On the fashion side and on the retail side, it's always an easy fit for musicians to have one foot in each.
Going all the way back into the collector's aspect of being a DJ, if you grew up as a DJ, chances are you have a habit of hunting down collectibles and being into the design of sleeve art and design art, and the aesthetics of certain records. It's so easy to transition from that to fashion. Conversely you have it the other way around too with the fashion world seeking out DJs and musicians to soundtrack what they're doing.
So you've been in the industry for a long time, what are some of the biggest changes you've experienced or seen in terms of music trends and globalization?
I started DJing in 1995/1996 when I was still a young teenager, so it's been over 20 years now. Obviously, a ton has changed and I think a lot of the changes have to do with technology and the internet bringing people together.
Even being in Asia is interesting. I got my start by winning DJ competitions, scratching and becoming a world champion when I was very young. Then, that creative demand flew me to different parts of the world, but on some of my earliest trips to Asia, people would book me on the strength that I had with scratching. When it came down to a DJ set, trying to read the crowd was hard! Finding a common group musically, with music that I was playing back home, that people might be into in any part of Asia that I was first going to at the time was difficult because the culture was literally a world apart.
I remember when blogs became a lot more commonplace in the mid-2000s, I would come back to Asia for shows and really feel a global village thing where, increasingly, audiences and people from the same generation were listening to the same records, and faster. The moment that something came out, the entire world was listening to it.
Another big change that I've seen in the span of my career was that there were less obstacles for anyone to start their own business, line, label, or to make their own music. Before, you used to have to have certain co-signs, a manager that was well connected, or just a certain amount of money to be able to learn how to DJ and produce. I think the democratizing power of technology, and the fact that you can do anything off a laptop with an internet connection changed that tremendously. Now it's the power of the ideas, whether you're learning how to DJ or learning how to design your own T-shirt, or both, or making a logo for yourself, or getting your friends to design the cover of the music that you're making, the power now goes to the people who have the best ideas.
It's more about the ideas, and if anything, it's an amalgamation of clever ideas and marketing. If you have the creativity for music, creativity for designs, you can do pretty much everything, and then it's up to you to get people to notice it, that's where the marketing comes in. That's changed the entire process.
So you maintained longevity in the industry that changes everyday, how do you think you've done it?
Maintaining longevity is probably the biggest challenge in the course of my career. For a lot of people, the challenge is getting noticed in the first place, but I was pretty fortunate for my career to kick off very fast when I was very young. The entertainment world normally wants to shoo you out after 5 years, and it's been over 20 for me. That just required a lot of self-awareness and subtle reinventions.
I've reinvented myself many times, but it's important to never make those reinventions too drastic or to make it feel like a total departure from what you're known for previously because you don't want to lose an existing audience and you don't want to confuse your audience either. The idea is, try to seem like they already know what you do and that they've already experienced what you do. As an artist, the mission is to refresh it, to give an impression that you might have seen me in the past but now I'm doing it in another twist. That way you can keep it interesting and hopefully, the demand continues to be there.
You're an OG and you discovered a lot of OG artists... what do you look for when you see new talent?
I spent the first 10 years of my career just establishing myself. Going from a young scratch kid to rounding out my DJing, learning how to master various types of DJ sets, teaching myself to produce, all that stuff. After that, just came another phase of starting my own label, signing other people, and creating a platform, where this is like strength in numbers. Adding that level of dimension allowed me to expand my wingspan and what I stand for. What I represent now is not just me, it's me and the people I co-sign. Part of what made that possible for me is a lot of my various roles intersect, so if I'm researching music as a DJ, which is something I have to do on a weekly basis, I'm probably finding people I want to work with, then if I'm doing a Fool's Gold project, I might end up making connections that will bleed into an A-Trak collaboration.
I'm just looking for artists that stand out, most of the time I don't even know what I'm looking for. I'm just looking for something that catches my attention. That's when I know I found something interesting. A lot of the artists that have been on Fool's Gold, from Danny Brown to Kid Cudi to Flosstradamus... a lot of the times they're weirdos, and I say that in a positive way. I like weirdos, I like people who don't find the obvious mold and that sort of reinvent the formula.
Let's talk more about the collaboration, how did you first link up with CLOT and how did this whole thing happen?
Initially, I connected with Kevin and Edison and the original CLOT team, before Fool's Gold even existed. I used to tour with Kanye and Edison brought Kanye for a show in the waterfront in Hong Kong back in 2006. Afterwards, I would just keep running into Kevin and the guys over the years.
My Fool's Gold activity keeps me connected. In the streetwear scene, I'll just run into people year after year and we'd maintain these friendships. It's really just this year that we tried to do something with Fool's Gold and CLOT, and a lot of the stuff I do with Fool's Gold is with friends. I'll get a sense when it's time to approach that relationship and say that we should do something together. I don't rush things too much.
With Fool's Gold, we've been making merch and clothing for a long time but last year we turned 10, we opened a new store in New York and when we started doing seasonal collections, we put a renewed push into the brand with the clothing side of things. With this renewed energy, I thought to myself, "Who do I know that could create interesting collaborations?"
The other part of the idea here is, I've been coming to Asia to DJ myself for a long time, my first gig in Asia was in Seoul in 1997 when I was 15! I have an audience in Asia DJing, but I've been wanting to bring the Fool's Gold universe to Asia for a long time, and so I'm glad I get to tap into Asia with Fool's Gold by collaborating with the CLOT family. 
So why a pawn shop?
The pawn shop idea the CLOT guys came up with! It's cool because there's definitely a Hong Kong flavor that goes along with it. It really fits into the Fool's Gold ethos too. With DJ sampling, it's actually not that different than a pawn shop where you're giving a new life to some sort of artifact or piece of music. Someone who walks into a pawn shop buys something that someone else used to own and it gets a new life. When I'm sampling a record, I'm taking something from another source and giving it another context.
So what's coming up for you and what are you the most excited about in the near future?
With the A-Trak world, I'm working on a lot of new collaborative EPs with rapper and DJ friends. I never really announce anything until it's done, so be prepared for a lot of collaborations... just making music with my friends and people that I admire!
One thing I'm really psyched about is a DJ competition that I started organizing last year called the Goldie Awards. That's been one of my proudest projects because it fully ties the loop with my entire career. DJ battle culture hasn't been in the forefront of people's attention as much but I know that a lot of DJs have a lot of skill and I've always wanted to figure out ways to give them more visibility. Finally last year, I figured out the right set up to start my own DJ competition. The goal is to bring attention to these incredible DJs I've witnessed, these skills go beyond what most people see at a concert or a festival. There's so much more to it than most people see and it's a battle, I love battles, they're so exciting and it's an amazing way to find the best of best. This year will be the second edition of the Goldie awards in the fall. Learn more about the Goldie Awards here.