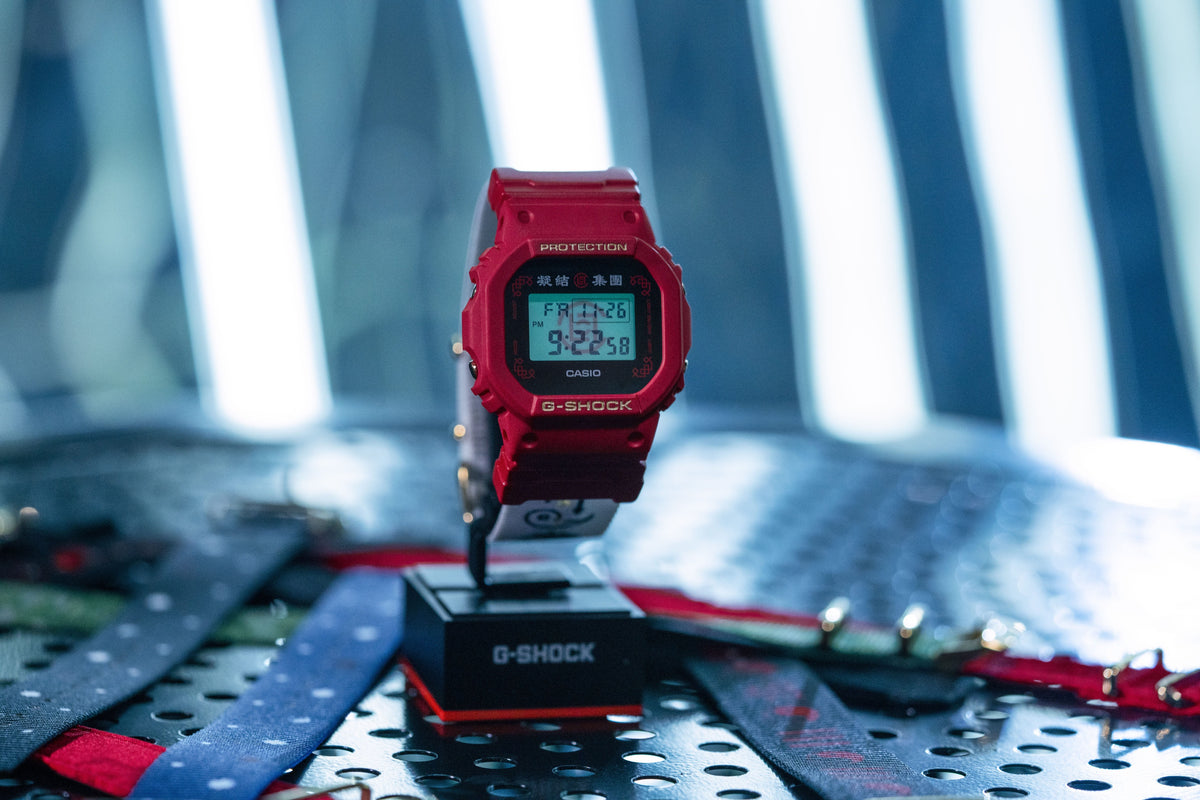 CLOT introduces third G-SHOCK collaboration featuring the all-new DW-5600BBN
Following previous team-ups in 2012 and 2020, CLOT announces its third G-SHOCK collaboration featuring the watch brand's most celebrated model: the classic DW-5600. 
Dubbed 'CLOT x G-SHOCK DW-5600BBN', the latest crossover continues to present a perfect blend of the pair's signature aesthetics. The resulting design features an eye-catching CLOT-inspired red colored case, with G-SHOCK branding and button details in contrasting gold. To top it off, CLOT's emblematic codes from its Chinese name to brand logo and iconic Silk Royale pattern can all be found wrapping around the digital time display. Apart from an engraved version on the caseback, the CLOT logo will also appear against the EL backlight as a special surprise.
A 1987 creation by G-SHOCK, the DW-5600 is celebrated for its stellar durability thanks to the innovative shock-resistant construction in resin and mineral glass. It also boasts a range of technical specs, such as 20 bar water resistance and an EL backlight—a feature that was added in 1996. Minimal yet highly functional, it's no wonder why the DW-5600 is a popular choice for brand collaborations throughout the years.
Celebrating the release of the third collaboration between CLOT and G-SHOCK, the CLOT x G-SHOCK DW-5600BBN shall come in a specially designed nonagon packaging with a sheer green display. Other than the nine-sided cylinder case, the watch is also available with a total of nine interchangeable straps. The number nine—the pole number in the yang category and the biggest among odd numbers—holds significance as a symbol of longevity and eternity in Chinese culture, and is chosen in correspondence to the theme of 'Infinity' behind this collaboration. Strap designs, meanwhile, include iconic Chinese-inspired elements—such as silk, prints, jade, tai chi, yin and yang—taken from CLOT's FW21 collection, all coming together for a powerful demonstration of the brand's core spirit.
The CLOT x G-SHOCK DW-5600BBN shall be available at select JUICE stores and JUICESTORE.COM from 26 November 2021.  Please keep an eye on CLOT and JUICE's social media channels for detailed updates.
Release Information:
JUICE K11 MUSEA / JUICE CENTRAL / JUICE CAUSEWAY BAY / 
JUICE SHANGHAI (JULU ROAD) / JUICE CHENGDU IFS / JUICE GUANGZHOU / JUICE LOS ANGELES / JUICE TAIPEI /JUICE TAICHUNG
JUICESTORE WECHAT / JUICESTORE.COM / JUICESTOREUSA.COM/ JUICESTORE.TW

Price: HKD $2,380 / RMB $2,380 / USD $325 / NTD $9,680