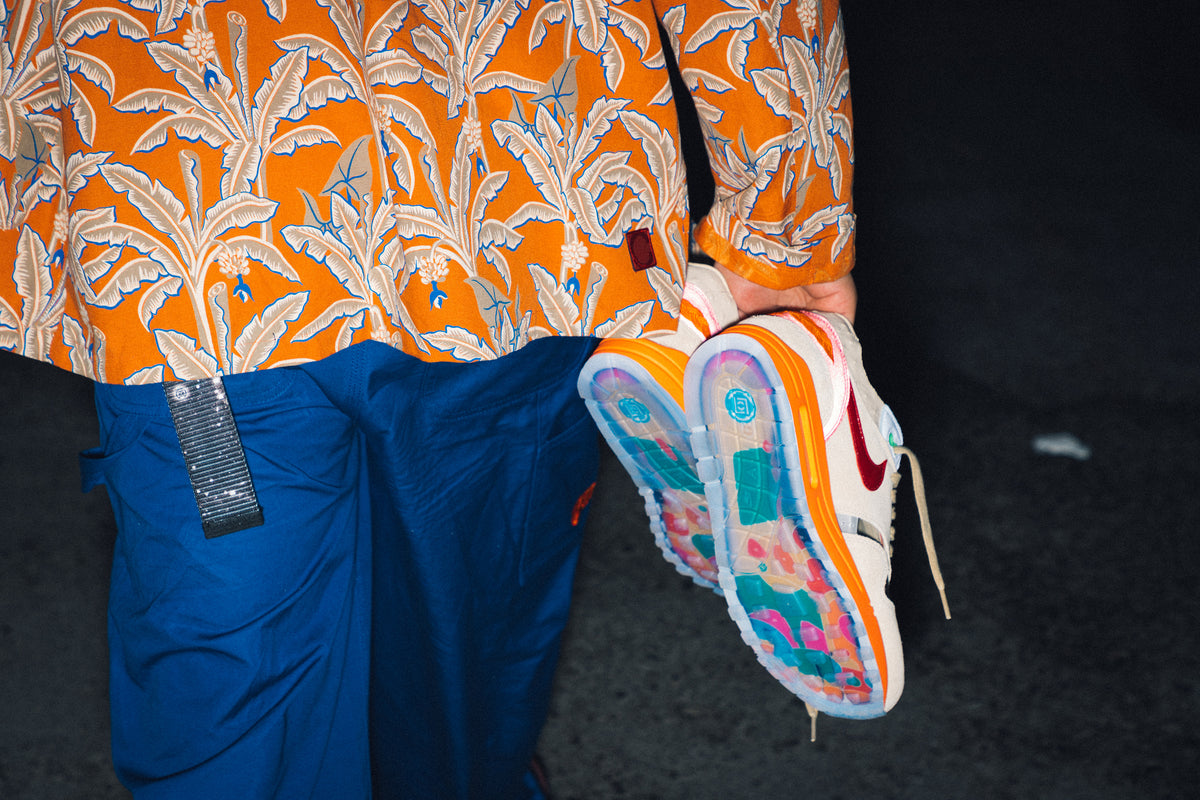 CLOT Brings the Iconic CLOT x Nike Air Max 1 "K.O.D." Back for 15th Anniversary
The original CLOT x Nike Air Max 1 "KISS OF DEATH" was released in 2006 and was CLOT's first-ever Nike footwear collaboration. Inspired by CLOT's mantra to bridge the East and the West, the shoe featured premium materials and a design inspired by foot reflexology and its pressure points, a traditional Chinese medicine philosophy. Its innovative construction featured a deconstructed style and see-through toe cap. The unique design has solidified the "KISS OF DEATH" as one of the most highly-sought after sneakers, even to this day.
CLOT x Nike Air Max 1 "KISS OF DEATH"(2006)
For Air Max Day 2021, 15 years after the original release of the "KISS OF DEATH," CLOT is re-releasing the elusive sneaker. With an updated construction, the new "K.O.D." pays homage to the original, and maintains the OG's colorway and deconstructed style with a brand-new perforated toe cap that's still see-through. Subtle changes to the shoe's upper include a reflective red heel tab and updated graphics for the insole and outsole.
For the CLOT x Nike Air Max 1 "K.O.D.", we've enlisted 4PK's Chef in the campaign further highlighting the sneaker's Chinese traditional medicine inspirations. With a customized shoe box that also highlights this theme, the updated CLOT x Nike Air Max 1 "K.O.D." is an update to CLOT's iconic first Nike collaboration. 
The CLOT x Nike Air Max 1 "K.O.D."  will be releasing starting on February 27 at JUICE locations worldwide and at special pop-up activations in Hong Kong (Fashion Walk), Shanghai (JUICE Julu Rd.), Taipei (JUICE Taipei), Taichung (JUICE Taichung), Guangzhou (Taikoo Hui), Shenzhen (MIxC World) and Chengdu (IFS). The shoe will also be available online on the JUICE App and JUICE ONLINE Mini Program. For JUICE STORE USA launch information, please stay tuned to @juicestoreusa social media accounts.

Stay tuned for more detailed release information including raffle launch times and pop-up dates.
Scroll down to take a closer look at the CLOT x Nike Air Max 1 "K.O.D." and the campaign shoot featuring Chef de MC!
CLOT x Nike Air Max 1 "K.O.D." (2021)