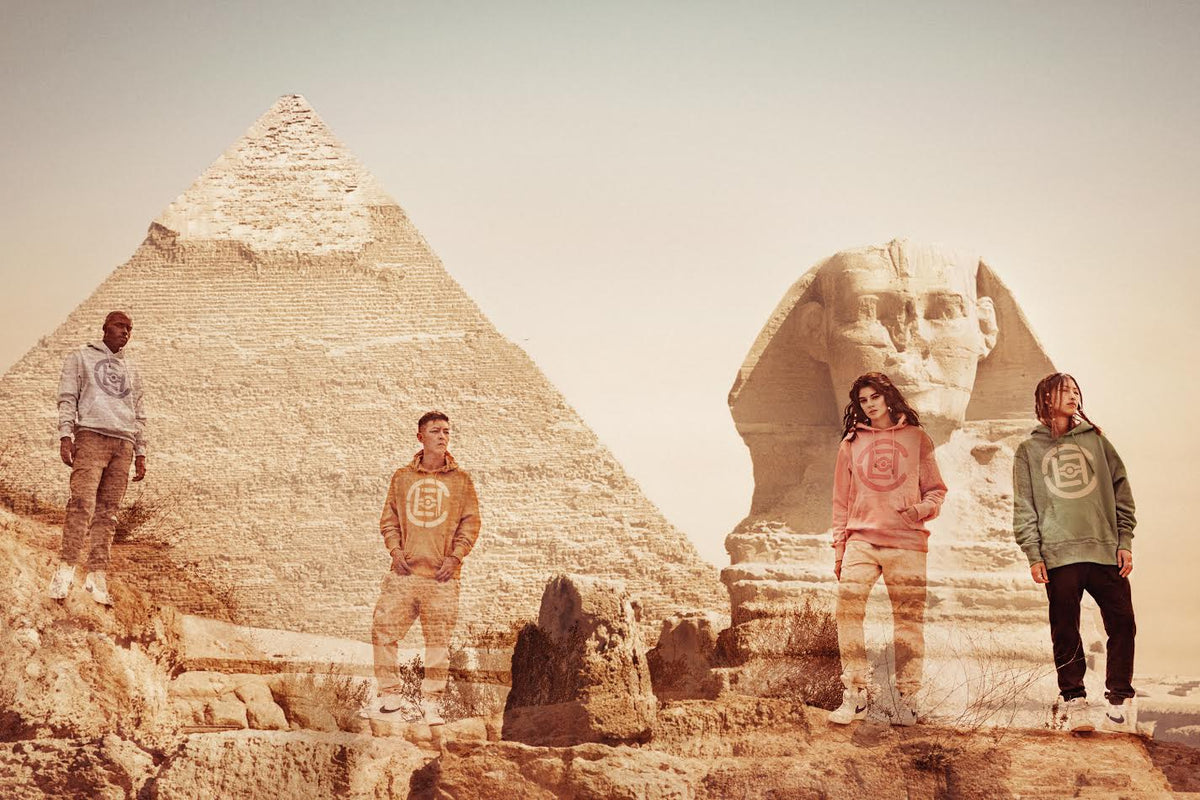 CLOT PRESENTS ITS SPRING/SUMMER 2020 COLLECTION "TROPICAL PYRAMIDS"
CLOT has tapped into the otherworldly culture of ancient Egypt to inspire its Spring/Summer 2020 collection entitled "Tropical Pyramid." While centuries-old, ancient Egypt was way ahead of its time in all facets of lifestyle, from what they wore to ways of self-improvement both physically and mentally, to how they viewed themselves as part of the human race. With a personal fascination in the way the Egyptians viewed the world and themselves, CLOT's Creative Director Edison Chen wanted to encapsulate their approach to fashion and contemporize it in a way that's familiar to him and the modern world. A heavy use of patterns and layering is seen throughout the CLOT SS20 collection that pays homage to the styling techniques used throughout ancient Egypt, from the elaborate dresses of royalty to the uniforms of slaves. Every element of clothing was consciously designed, often seemingly chaotic and confused, yet it made perfect sense to those that adorned it. The same can be said for the "Tropical Pyramids" collection that features modern-day prints and graphics that include more obscure references right down to literal references with pyramid and palm trees.

Having journeyed from Vancouver to Hong Kong to Los Angeles, Edison has gained a worldly view of how modern-day culture works, realizing hat LA is arguably the epicenter of self-conscious living today – a current version of how the ancient Egyptians lived. This can be seen through the collection's graphics that delve into the ancient Egyptian's standpoint of believing they had bigger heads, therefore being able to tap into more parts of their brain giving them a higher sense of power. Coupled with Edison's wife's affinity towards healthy living through meditation, yoga and seeking new-age remedies, the new collection holistically looks at how we can learn from the ways of ancient Egypt in today's modern landscape.

The CLOT Spring/Summer 2020 "Tropical Pyramids" collection represents our own interpretation of a new-age ancient Egypt. A limited first drop will be available starting on March 6 on JUICESTORE.COM while the full collection will be released in stores on March 20.
Creative Director - Edison Chen
Producer - Elle Hu
Photographer - Andi Elloway
Location Styling - Kyle Hopkins
Models - Edison Chen, AJ Greene, Sage Lauren, Elle Hu