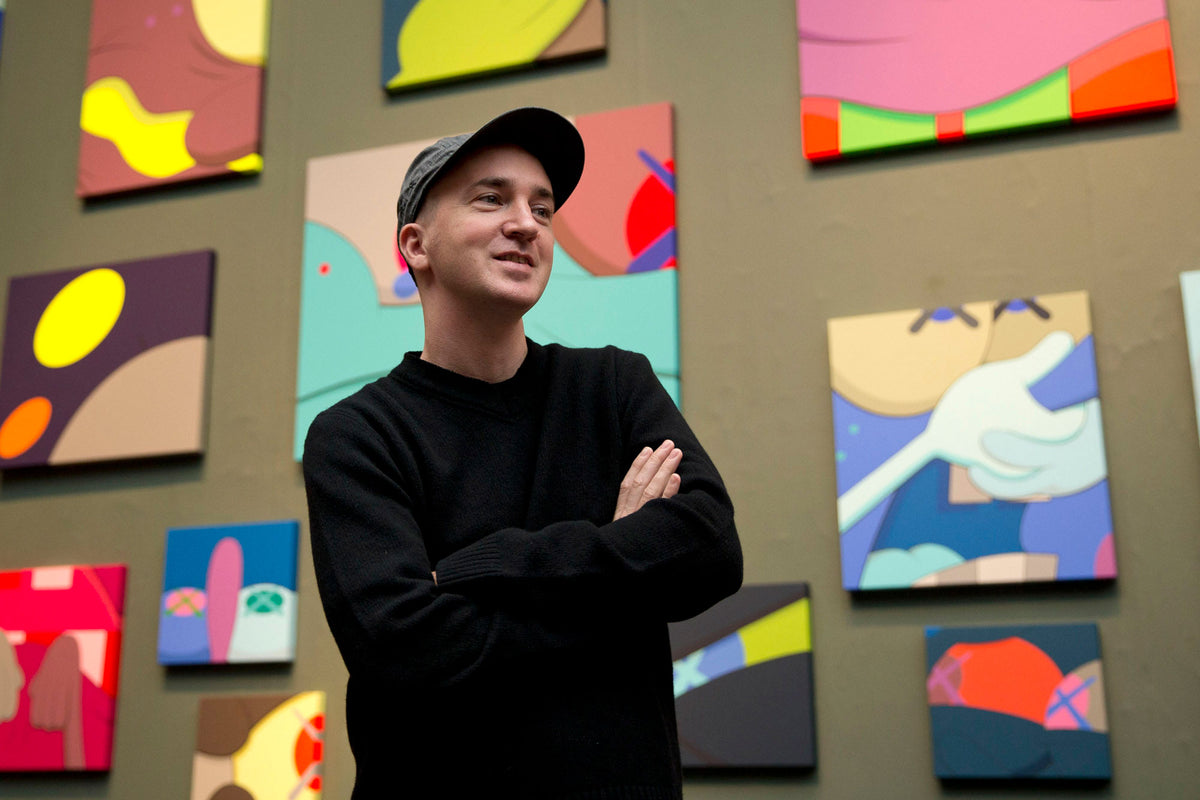 How KAWS's 'Companion' Became One of Fashion's Most Collectible Pieces
If you're into fashion, you're probably more than aware of the timelessness of KAWS's Companion figure. An undeniable stalwart in the street art and streetwear world, KAWS (also known as Brian Donnelly) might be one of the greatest and most prolific artists of our era, and his Companion the poster boy of our generation's taste in art. But how did this happen, and how did the Companion transcend two decades of change and still remain one of the most collectible art toys out there? 
Having begun his career in the '90s, Donnelly started off animating some of our favorite cartoons such as 101 Dalmatians, Daria, and Doug. He then began subvertising billboards and ads around the world, adopting the nickname KAWS. His graffiti work set the tone for his career, with his signature X eyes, bold colors and pop-art-inspired style tagged on public spaces. Known for his pop culture commentary, KAWS's work often mixes recognizable cartoons and characters with a sobering streak of humanity, forcing viewers to take a second look.
Many in the '90s assumed KAWS had political motivations, but for him, he just wanted to start a conversation. "When I started painting on advertisements, it occurred to me that the ad really set the work in a specific time... When you paint over ads, it clicks, especially with the phone booths I was doing. There were these Calvin Klein ads of Kate Moss or Christy Turlington. I think that's when I realized it was more about communication. There was a dialogue to it," said Donnelly. KAWS has always left his intentions up for interpretation but has said that he wanted his creations to transcend boundaries and to be universally understood. 
The Companion came into existence in 1999 when KAWS collaborated with Japanese brand Bounty Hunter. The first run of Companions featured a much more Mickey Mouse-inspired figure with noodle-like arms, squat shape, of course, KAWS's signature X eyes and gloves. According to KAWS, making toys was an entry point for him to see his work in 3D, "I always saw making sculptures as so unobtainable, like you need patrons. So when the idea of making a toy came up, it was like the only way I could see my work three-dimensionally. So instead of making this monumental 10-foot thing at the time, I made a thousand 8-inch things." Now a pioneer in the art toys scene, these Companions set the stage for bridging fashion and art, all on a street level.
Since then, KAWS's popularity has skyrocketed and led to collaborations with some of the biggest brands in the world from Uniqlo, Nike, Jordan Brand, to even Dior Homme. Over time, the Companion quickly solidified its status as a must-have collectible. Not only that, but what started out as "a thousand 8-inch toys" is now on a world tour and getting increasingly monumental at every stop (the Companion's latest large-scale installation is in Taiwan, measuring in at a whopping 36-meters). 
Despite the fact that the Companion is one of the most collectible figures around, many in the "art world" still lament the existence of these "art toys," believing that they're just plastic (sometimes plush) toys and not real art. But these art toys are an easy way for people to get into the art world. They're more affordable, more space-friendly, and it's easier to get into because they're usually somehow related to pop culture. In other words, they're a gateway to the art world that's more accessible to a bigger audience. According to Chris Tsang of Toronto's Mindzai, an art toy boutique, "The entry-level customer getting into Be@rbricks might not know who an artist is, but they know pop culture stuff...[art toys are] a piece of plastic that looks cool, but then [buyers] start to research more, to get involved, to seek things out and act more like collectors."
Aside from being more accessible, art toys often mimic the limited-edition streetwear drop selling model. Each release is highly limited and exclusive, driving up the demand and ultimately, hype. KAWS's own toy collectibles regularly sell out immediately - and then end up on resell sites for multiple times the original price. This takes the idea of collecting toys to a new level - these pieces aren't just to buy, they have fluctuating prices and often appreciate over time. According to Emanuelle Plat, the Director of Merchandising for the Museum of Modern Art's Retail division said, "[collectors] see art toys more as collectibles than works of art or toys. They understand the scarcity of these objects and are always on the lookout for the next release." 
And the next release is coming very soon. KAWS's latest Companion release will be available right here on JUICESTORE.com, celebrating the artist's latest Companion installation in Taipei, Taiwan. Check out all the available items here and expect the drop on Saturday, January 19 at 7PM HKT (for Mainland China shipping addresses only). 
Words by: Helena Yeung/CLOT