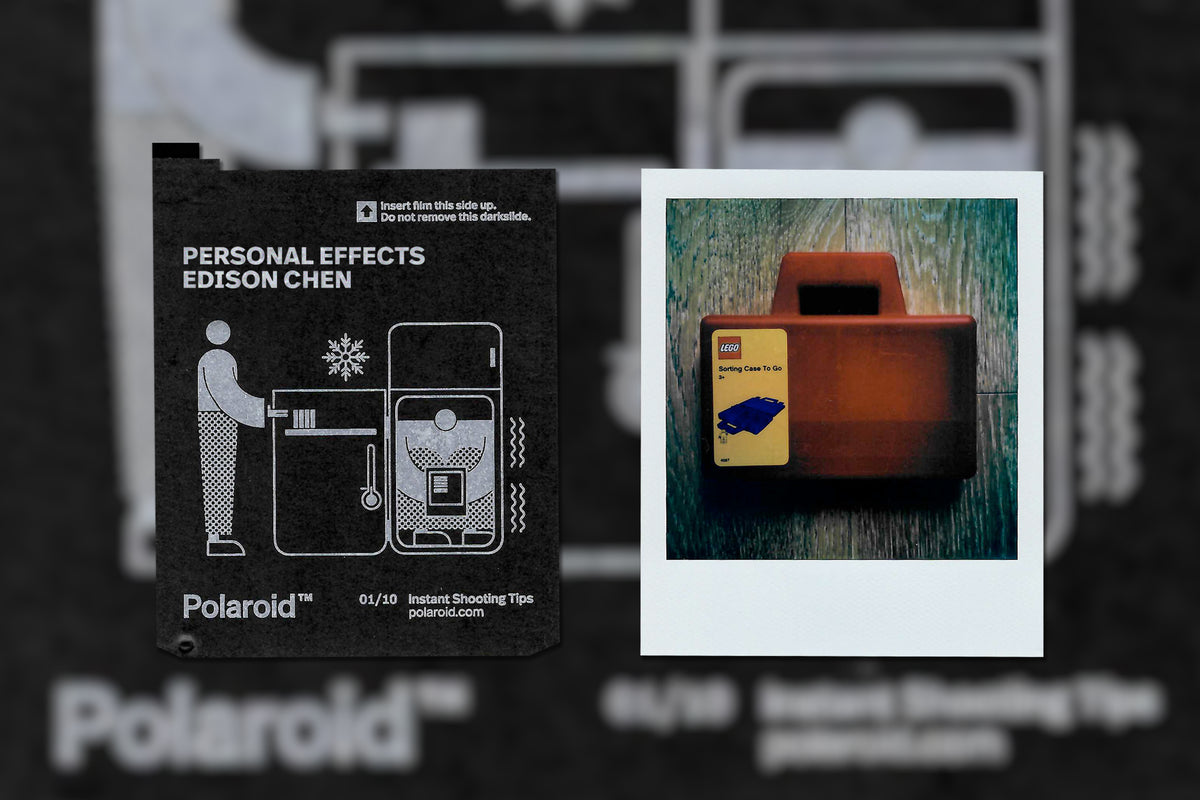 PERSONAL EFFECTS: EDISON CHEN
Edison Chen, co-founder of CLOT, is usually always on the go. But now with lockdown in Los Angeles, he's been forced to take a step back and take his meetings at home. From his favorite lifestyle items to his conference call must-haves, Edison takes us through his everyday essentials. A self-proclaimed '80s baby at heart, he shot these on a Polaroid 600 camera and colorful film.
For our first installment of PERSONAL EFFECTS, here's Edison Chen's essentials and why they made the cut. 
VISINE UV
this shit is extra strength and gets the red eye out, no matter what
japanese version stuffed is always more on point
for all u red eyed brothers and sisters out there, get this .......

IPAD PRO and MAGIC KEYBOARD
this duo has literally eliminated my usage of a cpu on the go
the new ipad has a beautiful screen and the keyboard makes the ipad feel like a macbook but even better cuz it is touch screen
coupled with my icloud , i literally have a mobile office and a nice screen to watch the lakers win the championship !!!

DIOR HOMME pocket mirror
i have been using this since early 2000's, this is a hedi slimane designed mirror
so obviously it is lifestyle inspired so it has many other uses that come in handy

LV NICOLAS GHESQUIÈRE RETRO wallet
this wallet has taken my life over cuz not only is it fly, it can fit not only my money but my small trinkets in it
the old school vibe of the cassette tape brings me back to the days when i had my songs i had to hear in my pocket, not on a phone but on a analog tape

BYREDO candles
needless to stay to stay fresh u gotta smell good and byredo always comes correct
this particular candle is chai but i use all the dif scents to match different moods
byredo all the way

RINGL 200
this painkiller eases any headache i have
either from my staff, little alaia, or just a migraine
this shit saves my morning day and night

HERMÈS IPHONE portable stand
this iphone stand is perfect for me on the go
facetime is a crucial communication method and this way i can have my on the go meetings on my phone in style
and not to mention this is foldable and literally fits into most bags with little to no space

LEGO carrying case
alaia's favorite toys are lego's
when we go out on trips we dont let her use a ipad or a phone
usually it is books or lego's
this official carrying case is something i stumbled upon on the website
and it has not only been convenient but also a good conversation starter

PEEL magic key and TILE companion
in these weird days cleanliness is king
the peel key opens doors, latches and also can be used to use touch screens, atm's and many other uses
this keeps me clean and keeps me safe, the tile keeps my keys located, i always have a million things on me and around me
so this keeps me sane knowing if i can't find my keys i can just press a key and they will scream out to me

SHURE MV88+
this little combo offered by SHURE also includes a MANFROTTO stand for ur phone
this is great for selfie like videos
the sound is great and the stand is great
this literally allows u to have a mini video recording studio in the palm of ur hands
especially in the world we live in nowadays this is useful for many people who want quality live streams or video content creation

KUUMBA INCENSE
pictured here is the colab we made with KUUMBA
but all of the flavors they have curated are excellent in my opinion
smell is a sense and it gives emotions off
kuumba is with me city to city, place to place, just in case
the finest incense in the world, take it from me

POLAROID NOW and RICOH GR1V
the digital age has come and taken over
but being a early 80's baby i still love the analog part of life
i use all POLAROID cameras but this is a new version and i have been testing it out
GR1V is one of my favoritest things in the world
the thought of waiting to see how my pictures came out is a joy few people seem to understand to enjoy nowadays
80% of the time i use LOMOGRAPHY film and my favorite film from them is the PURPLE toned film
GO ANALOG !!!!!!!!!!!!!!

PIONEER hands free CONFERENCE SPEAKER/MIC
this handy tool will allow me to use speakerphone and still be heard and still hear the conversation
i would say that this tool registers my voice 3 X clearer and gives cleared audio by at least double
this is crucial for people who have phonecalls non stop all day
the performance of this is impeccable and i recommend it to all entrepreneurs around the world