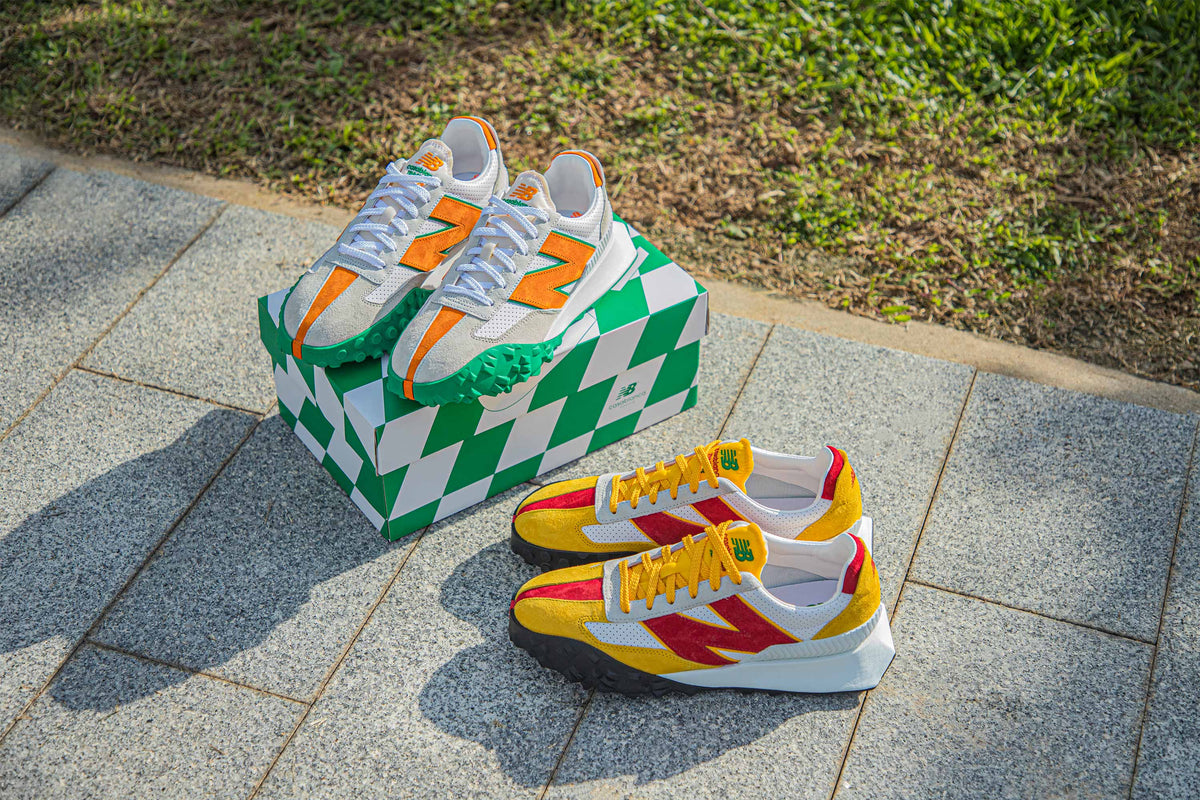 Sneaker Feature: Casablanca x New Balance Collaborate on the XC-72
After the impressive reception & overnight success from the previous Casablanca & New Balance collaboration on the "Red Monogram" 327 and 237 models, the two are back again for another highly-sought after luxury sneaker partnership. Each collaboration between the two brands have rivalled against some of the massive players in the sneaker game like the Air Jordan 1's and Dunk Low.
Helmed by designer and creative director Charaf Tajer, a Parisian-born of Moroccan ancestry, the brand has made statement after statement with each release silhouettes; whether it be silk shirts, quilted cropped jackets, or in this case - sneakers. Casablanca themselves have pride in their mantra, luxury meets leisure, having successfully collided the two mutually exclusive genres of comfort and opulence. 
In this week's Sneaker Feature we have a look at the upcoming and sought-after sneaker of the summer the Casablanca x New Balance. In continuation of their hopefully long and fruitful relationship, the two brands Casablanca and New Balance have met yet again to collaborate on one of the more newer and out-spoken styles of shoe brand's armoury of silhouettes, the XC-72.
With its silhouette designed by Charlotte Lee, the shoe is featured in two colorways; 'Green & Orange', and 'Red & Yellow', that have been described as a "Sports Car for Your Feet.". The first colorway gives off a bright and playful vibe, with its sole in a sleek ivy green and the 'N' logo on the side in a saturated orange - a signature Casablanca aesthetic. The second colorway features a white and black outsole base, with red and yellow hues on the shoe's upper. Another notable design aspect of the shoe is the split outsole design, where one half features a texture seen on the previous 327 model, and the other with a new design.
The fashion world has always taken note from aesthetics and styles of the old, and this collaboration is no exception. From the obvious influence of old sneakers worn by athletes in the '70s, to the inspiration of cars from racing Formula 1 vehicles in Monaco, to the old-school era wedge sports cars prominent from the mid '70s until the mid-'90s. Wedge cars like the BMW M1 or the notable Delorean DMC-12 and F1 cars have had their designs mimicked through the shoe's sleek toecap and body shape.
Check out the XC-72 sneaker collaboration between Casablanca and New Balance now at JUICE Causeway Bay and online at JUICESTORE.COM!