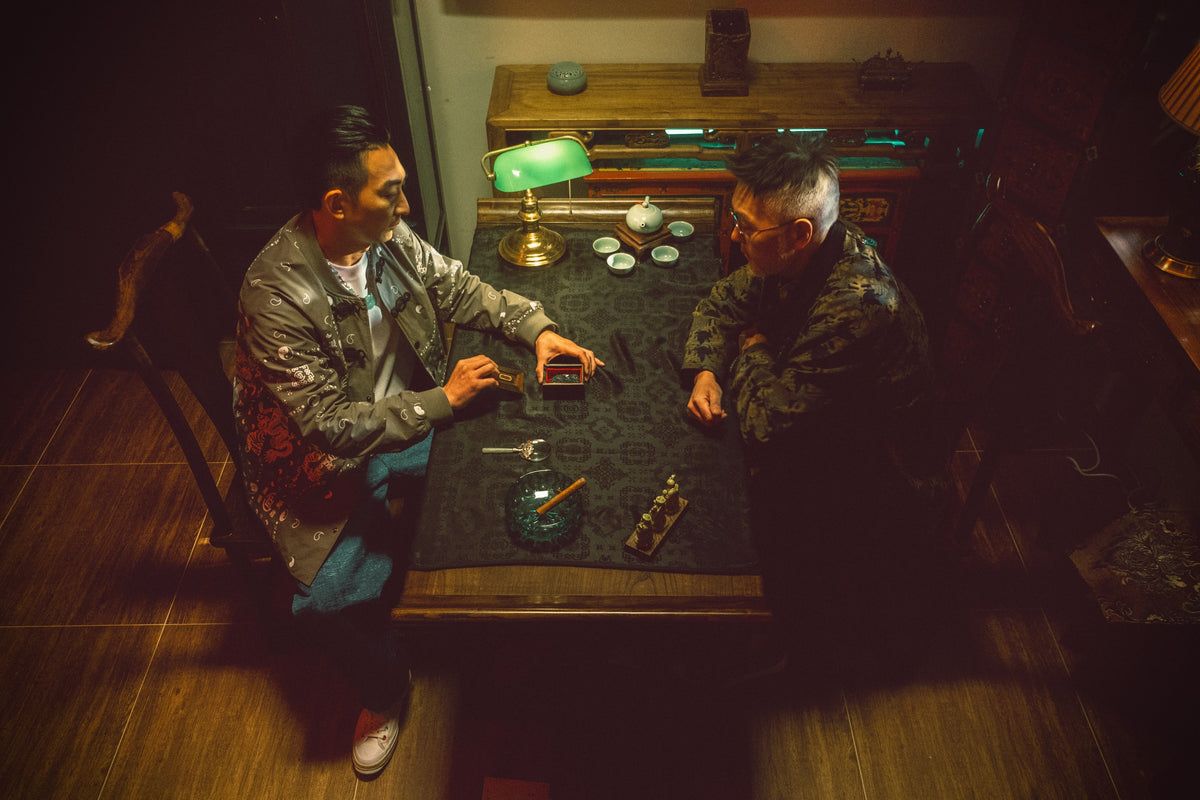 5 HIDDEN MEANINGS IN THE CLOT X AIR JORDAN "JADE 5 LOW' CAMPAIGN FILM
CLOT has just dropped a campaign film for its CLOT x AIR JORDAN "JADE 5 LOW", starring Hong Kong film director Vincent Kok Tak-chiu and actor Sam Lee Chan-sam. 
Featuring a design reminisced of Chinese jade adornments and, with it, an artistry steeped in history and tradition, it is only natural that the campaign film for the CLOT x AIR JORDAN "JADE 5 LOW" packs more than what's on the surface. Scroll down as we break down the story to reveal five hidden meanings and metaphors in this short film. 
1. Style and ambiance: Tribute to classic Hong Kong Movies
On top of casting Hong Kong film industry veterans Vincent Kok and Sam Lee to front the campaign, everything from the filming style, the mood and even props including the shrine of warrior god Guan Gong are all thoughtfully arranged to offer nods to classic Hong Kong movies. 
2. Sam Lee: The new generations
At the start of the film, Lee—decked in stylish attire and shades—is seen sneaking into an antique jade store, and browsing silently in the dark. The scene represents how new generations are often shy of showing their love for heritage and traditions. 
3. The Search: A willingness to understand cultural traditions
Lee starts going through the antique cabinets looking for a piece of jade that speaks to him, which is a hint that he, who is a representation of the new generations in this campaign, values and is willing to take in traditional wisdom. 
4. Vincent Kok: Earlier Generations
Vincent Kok, who plays the store owner, appears and tells Lee what he's looking at aren't right for him, then proceeds to show him an antique he claims to be better. This scene is hinting at how elders are often perceived to impose their beliefs to the young, to which Lee responds with "older isn't always better". However, take a look at what's on Kok's other hand, you'll begin to see that elders can be much wiser than they appear.
5. Ending Scene: A mutual respect 
Acknowledging Lee's individualism and drive, Kok reveals his prized possession:  CLOT x AIR JORDAN "JADE 5 LOW". A brand new jade loved by both antique and style lovers, the ending scenes signals the mutual respect between previous generation and the new. Together, we shall pave an all new path to carry on our rich cultural heritage into the future.
Watch the full CLOT x AIR JORDAN "JADE 5 LOW" campaign film below.
The CLOT x AIR JORDAN "JADE 5 LOW" and the CLOT x AIR JORDAN capsule collection are set to launch on 14 May 2022 at select JUICE locations worldwide and online. Follow our social media channels for instant updates on raffle details.
Pricing Information

CLOT x AIR JORDAN "JADE 5 LOW" - HKD 1,499 / RMB 1,499 / USD 200
Selling Doors

TAI KWUN POP-UP / JUICE SHANGHAI (JULU ROAD) - SUBJECT TO COVID MEASURES / CHENGDU POP-UP / GUANGZHOU POP-UP / JUICE LOS ANGELES / HAWAII POP-UP / JUICE ONLINE MINI PROGRAM / WWW.JUICESTOREUSA.COM / JUICE APP (WORLDWIDE)
Pricing Information

CLOT x AIR JORDAN Black Short Sleeve T-Shirt - HKD 499 / RMB 499 / USD 50
CLOT x AIR JORDAN Barely Green Hoodie - HKD 899 /RMB 899 / USD 120
CLOT x AIR JORDAN Barely Green Sweatpants - HKD 799 / RMB 799 / USD 100
Selling Doors

TAI KWUN POP-UP / JUICE CAUSEWAY BAY / JUICE K11 MUSEA / JUICE CENTRAL / CHENGDU POP-UP / GUANGZHOU POP-UP / JUICE LOS ANGELES / JUICE ONLINE MINI PROGRAM / WWW.JUICESTOREUSA.COM / WWW.JUICESTORE.COM
Related Reads