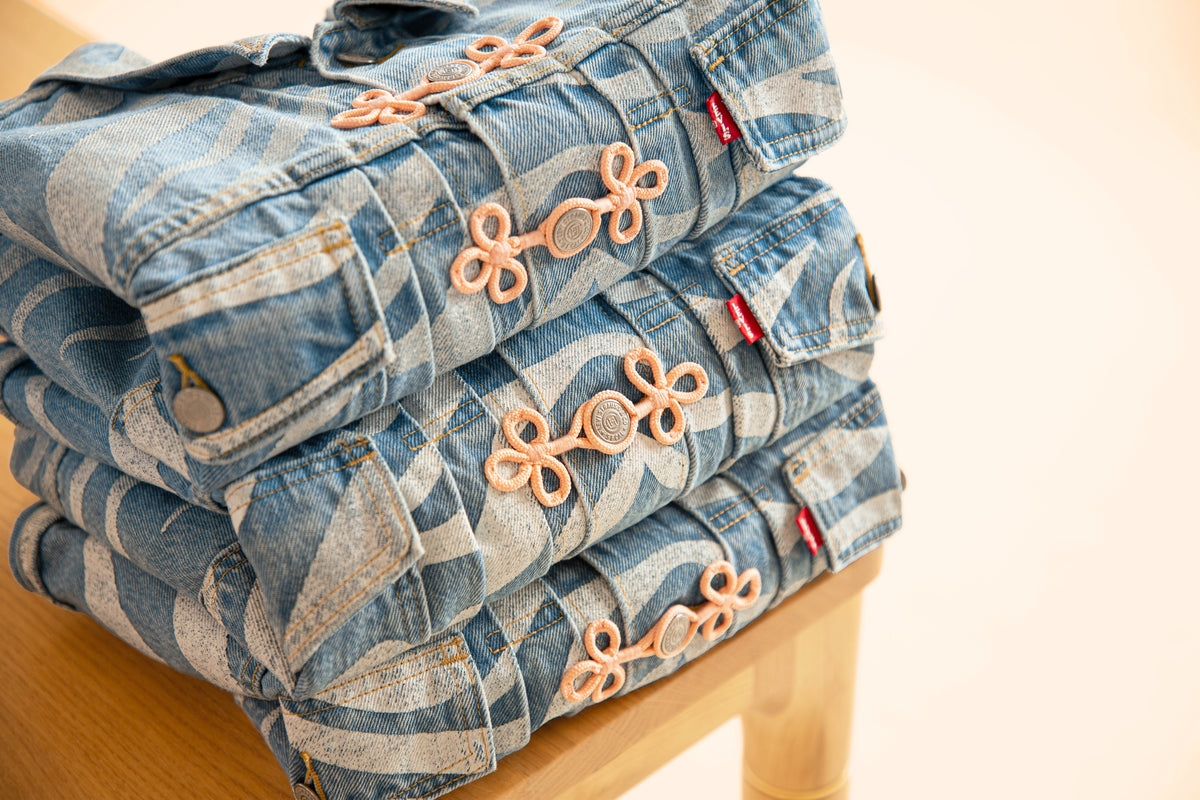 6 iconic details you shouldn't miss in the latest CLOT x Levi's® collab
Decked all over in tiger stripe camo to celebrate the coming Year of the Tiger, the highly-anticipated CLOT x Levi's® denim collection launches tomorrow. The range includes two Type II Trucker Jackets for men and women, a pair of 551Z Cropped Jeans and a customisable 70's High Midi Skirt, all crafted from 13.75oz heavy washed faded denim.
"The CLOT x Levi's® is a Chinese New Year celebration. Basically infusing the tiger print camo into a contemporary design to celebrate this year's theme of the Year of the Tiger," shares CLOT Founder and Creative Director, Edison Chen.
Staying true to CLOT's East-meets-West ethos, the duo cherry-picked a number of iconic cues from their respective brand codes, blending them into a stylish and absolutely versatile collection that celebrates Chinese heritage of CLOT and the everlasting denim pioneered by Levi's®.
From the iconic Type II design to the Chinese button knots, scroll down for closer look at the six iconic details you shouldn't miss in the latest CLOT x Levi's® collab.
1. Iconic Type II design
Levi's®'s iconic Type II Trucker was chosen as the design base for the both jackets in the CLOT x Levi's® denim collection. The men's version retains all signature elements of the 1953 original—including double-pleated details, two-flap pocket design, reverse pleats, bar tacks and button tab waist adjusters—whereas the women's version comes slightly cropped.  
2. Chinese button knots
Other than being a slightly cropped version of the original Type II, the CLOT x Levi's® Women's Type II Trucker Jacket is also adorned with Chinese button knots—a CLOT signature inspired by the knot-and-loop buttons used in ancient China— in a pinkish hue for extra flair.
3. Co-branded double-layered paper patch
Every piece in the collection comes attached with an emblematic Levi's® paper back patch featuring the 136-year-old Two Horse Trademark. Placed right next to it is a motif depicting a tiger gripping onto CLOT's logo as a playful display of the brand's Chinese roots. The patch is also sewn onto an additional layer of silk adorned with the Silk Royale pattern—another of CLOT's signature design drawn from ancient China. 
4. Co-branded silk patch
On top of iconic paper back patches, the Silk Royale-patterned silk has also been used on silk tags, each embroidered with the CLOT's logo and name of the particular product.
5. Signature Red Tab
The Red Tab, is of course, another Levi's® symbol that's been around for 85 years. You'll find them in the all-caps version on every piece of the CLOT x Levi's® denim collection, signalling its premium status.
6. Co-branded shank buttons
Last but not least: the metal shank buttons, found with an added CLOT logo in the center as a co-branding adaptation to celebrate this brand new chapter between CLOT and Levi's®.
Shop the CLOT x Levi's® denim collection from 14 January at select JUICESTORE worldwide and JUICESTORE.COM. Check this link for detailed info.
Related: First Look: The CLOT X Levi's® Denim Collection Campaign Video